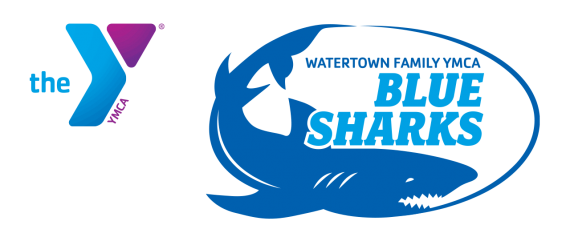 Blue Sharks Practice and Meet Schedules
The Watertown Family YMCA Blue Sharks Swim Team
a member of the Central New York YMCA league, is a competitive swim team from Watertown, NY enlisting swimmers from around the North Country. 
Practices run from early October through February. Many Blue Shark members compete in the annual New York State YMCA Swimming Championship meet in March. Past members have also competed in the YMCA National Meet held in Greensboro, NC! 
Purpose and Goals
The purpose of this swim team is to enrich the emotional, mental, and physical development of our swimmers through the discipline of competitive swimming. With this purpose in mind, these five goals have been set for the team:
    • Maintain a competitive swim team
    • Promote good sportsmanship, fair play,
       and discipline
    • Promote physical and mental well-being
    • Promote team unity
    • Promote a lifetime leisure activity
 
Online Registration Begins
August 22, 2022
Parent Info Night
September 19, 2022 6:30 PM
Watertown High School Large Cafeteria
Swim Programs 
All swimmers compete within their age group.
A: 15-19 yrs
B. 13-14 yrs
C. 11-12 yrs
D. 9-10 yrs
E. 8 & under
A YMCA membership is required to join the Blue Sharks. 
The Blue Sharks Swim Team is a Watertown Family YMCA sports program. The YMCA provides, through the membership, required insurance coverage for swimmers and staff members for participation in the CNY YMCA League.
YMCA Membership Options
YMCA Youth Monthly Fee:
    18-24 Years:         $23.00*
    13-17 Years:         $11.50
    Up to 12 Years:       $8.50
        *Plus $20.00 Joiner Fee
YMCA Family Monthly Fee: $59.90*
2 Adults & dependent children under the age of 21 in same household
         *Plus $75.00 Joiner Fee
YMCA Single Parent Monthly Fee: $46.00
1 Adult & dependent children under the age of 21 in same household
        *Plus $50.00 Joiner Fee
Blue Sharks Swim Team Fee
    First Child: $350 (5 x $70.00)
    Additional Siblings: $315 (5 x $63.00)
    Modified/Varsity: $315 (5 x $63.00)
First payment is due at time of registration. 
TeamUnify Registration Fee
Annual $15.00 Registration Fee per Family 
Two Week Trial Offer
The Blue Sharks offer a two-week trial membership. At the end of the two weeks, a final determination of whether a swimmer is at a safe level to continue with program will be decided by a coach. If you choose not to continue with the program after the two-week trial, you MUST notify the YMCA to stop further payment.